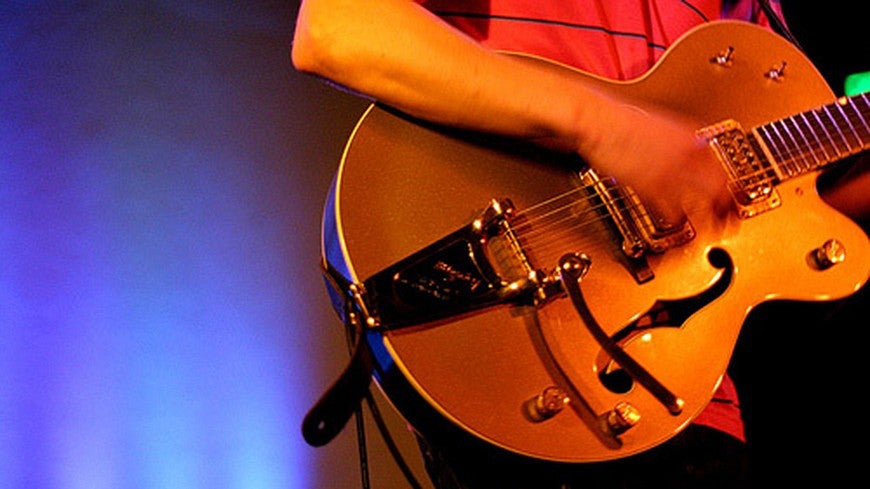 For a town of its size, Eugene has an incredibly large and varied art and music scene. There's always something happening. And if there's not enough for you, high-tail it to Portland, just two hours north.
LIVE MUSIC - Information & Venues
Info
Eugene Weekly's Art & Music Guide
See who's playing and showing locally each week.
Register Guard's Cafe 541
The local newspaper's weekly guide to arts and entertainment.
Venues
Ax Billy Grill & Sports Bar
999 Willamette St. 541-484-4011 
beergarden                                                                                                                                           
777 W 6th Ave. 541-505-9432
Blairally Vintage Arcade                                                                                                                     
245 Blair Blvd. 541-683-1721
The Cuthbert Amphitheater
541-682-5000 
Embers Supper Club
1811 Hwy. 99 N. 541-688-6564 
The Hult Center for the Performing Arts
Seventh & Willamette 541-682-5000 
The Jazz Station                                                                                                                                     
124 W Broadway 458-205-1030
Lucky's
933 Olive 541-687-4643
Mac's Nightclub and Restaurant
1626 Willamette 541-344-8600
McDonald Theater
1010 Willamette 541-345-4442
McShane's
86495 College View Rd. 541-747-4031
New Day Bakery
449 Blair Boulevard 541-485-1377
The O Bar
115 Commons Dr. 541-349-0707
Old Nick's Pub                                                                                                                                       
211 Washington St. 541-844-1280
Oregon Wine LAB
488 Lincoln St. 458-201-7413
Overtime Grill
770 S. Bertelsen 541-342-8598
Perugino
767 Willamette 541-687-9102
Public House                                                                                                                                      
418 A St. (Springfield) 541-246-8511
Quacker's
2105 W. 7th St. 541-485-5925
Sam Bond's
407 Blair 541-431-6603
Sam's Place
825 Wilson St. 541-484-4455
Sessions Music Hall
44 E. 7th 541-345-4434
The Shedd Institute for the Arts
868 High St. 687-6526
Sweetwater's
at the Valley River Inn 541-687-0123
Territorial Vineyards and Wine Company                                                                                             
907 W 3rd Ave. 541-684-9463
Viking Braggot Co. Southtowne                                                                                                           
2490 Willamette St. 541-515-6314
Whirled Pies                                                                                                                                                 
199 W. 8th Ave. 541-302-6013
WOW Hall
291 W. 8th Ave. 541-687-2746
Please let me know if you have a venue to add: lynde@uoregon.edu
DANCE & THEATER Venues
Actor's Cabaret of Eugene
Live Dinner Theater
996 Willamette St. 541-683-4368
Community Center for the Performing Arts (WOW Hall)
Dance, Theater & Music Productions
291 W. 8th Ave. 541-687-2746
The Hult Center for the Performing Arts
Dance, Theater & Music Productions
Includes performances by the Eugene Ballet, the Eugene Opera, and the Eugene Symphony - as well as a full calendar of national and international troupes, theater companies and musicians.
Seventh & Willamette 541-682-5000
Oregon Contemporary Theatre
Theater Productions
194 W. Broadway
McDonald Theater
Dance, Theater & Music Productions
1010 Willamette 345-4442
info@mcdonaldtheatre.com
UO's Robinson Theater & Pocket Playhouse
Theater Productions
UO campus 346-4191
UO's Beall Concert Hall
University of Oregon Music Productions, Chamber Music Series
961 E. 18th Ave. 346-5678
Very Little Theater
Theater Productions
2350 Hilyard 344-7751 
Please forward you suggestions: lynde@uoregon.edu
VISUAL ARTS
Galleries
Eugene is home to many galleries, a number of which reside on the walls of coffee houses and, therefore, too numerous to list. I've only listed stand-alone galleries here and this is not a complete list. If you have a gallery to list, drop me a line at lynde@uoregon.edu
Adell McMillan Art Gallery
Erb Memorial Union, UO campus
Alder Art Gallery
Willamette & Pearl, Coburg
Emerald Art Center
500 Main St. Springfield
Karin Clarke Gallery
760 Willamette
LaFollette Gallery
931 Oak St.
Lane Community College Art Gallery
4000 E. 30th Ave.
Lane County Historical Museum
740 W. 13th Ave.
LaVerne Krause Gallery
Lawrence Hall, on UO campus
Maude Kerns Art Center
1910 E 15th
New Zone Gallery
22 W 7th Ave. 541-683-0759
Oregon Gallery
199 E. 5th, Suite 5 541-684-0045
Robert Canaga Gallery
787 Audel Ave. 541-461-3895
Sattva Gallery
1801 Willamette St. 541-343-4929
Jordan Schnitzer Museum of Art
UO campus
UO Museum of Natural & Cultural History
1680 E. 15th, on the edge of the UO campus
White Lotus Gallery
767 Willamette
Annual ART & MUSIC Festivals
Junction City Scandinavian Festival
Oregon Festival of American Music
Willamette Valley Music Festival
ARTS Links
20 x 21 Mural Project & Walking Tour
City of Eugene – Cultural Services
Lane Arts Council

UO Library's music page
Please forward link suggestions to lynde@uoregon.edu