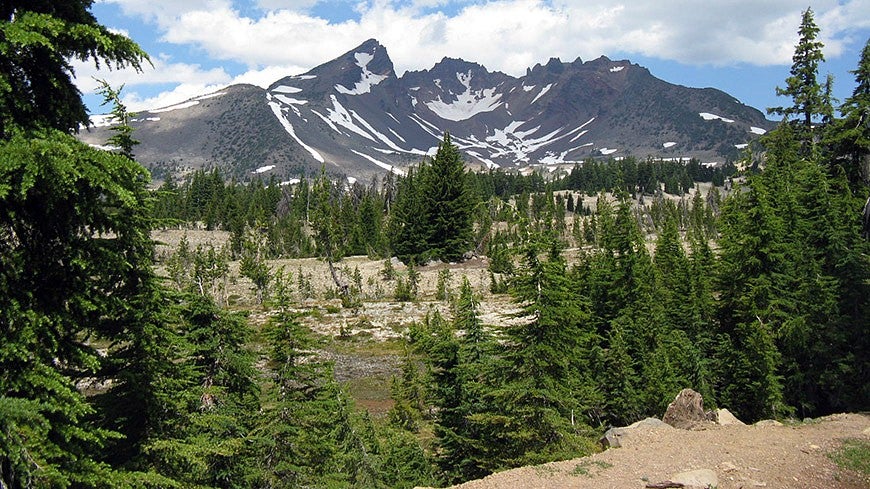 Eugene is located in the middle of an outdoor paradise. No matter what games you like to play or places you like to explore, it's all within a few hours of town. Below you'll find links to more information about what the state and the university has to offer in terms of outdoor pursuits. All links open a new window so you can browse without losing your place.
UO Facilities & Programs
Outdoor Program
For all sorts of outdoor information and excursions, contact the UO Outdoor Program. Check out their website for information on trips and rental gear.
UO Student Rec Center
To stay fit when you can't get out, you can always go to the student rec center, a recently expanded facility that houses everything from a swimming pool to racquet ball courts. You will have access to the rec center when you are taking on-campus credits and would be hard-pressed to find a better club no matter what you were willing to pay.
Club Sports
Club Sports offers a way for students to get involved in team sports with other students. Teams include everything from jiu jitsu to cycling. Club sports is also a great resource for connecting with other athletes.
Running
Eugene is known as "Track Town USA." The UO hosts national track events at Hayward Field, but it's common to see Olympians out on the mulch trails around town as well. For more information on running in Eugene and events hosted by the UO:
Oregon Track Club & UO Track & Field
Oregon Track Club: volunteer-based running club, which hosts local races and has numerous running resources. They have a great map showing local running trails and tracks around town.
Goducks.com (to see when the track meets are happening)
Local Race Organizations/Schedules
Eclectic Edge Racing: offers timing services for OTC, but also puts on many of its own races in Eugene, along with other cities in Oregon.
Pink Buffalo Racing: Another organization with some good races from 5k to half marathon or 18-mile trail runs.
Running Trails/Maps
Eugene Cascades & Coast Running: Good collection of trails with maps/directions/images.
Mt. Pisgah: Trail information, maps and info about the park. Great place to get some hill work in. Beware of poison oak off the trail.
Parks & Trail Maps: A compilation of city trails and parks, put together by the city. 
Cycling
Outside the city limits you will find miles of country roads for an escape on your road bike. You will also find some of the best mountain biking around within an hour of campus. Just stop by the local bike shops for tips on the best routes. Commuting in Eugene is easy - in large part because the large network of bike paths makes it easy to avoid traffic. The city puts out a bike map so you can plan your commute. Eugene is also home to several bike manufacturers.
Road Riding
G.E.A.R.s Routes: Good collection of routes around Eugene and neighboring towns put together by a local cycling club.
Eugene Cascades & Coast Cycling: General info on cycling around Eugene and Oregon.
Mt. Biking
Eugene Cascades & Coast Cycling: A couple of suggestions for nearby mountain biking. 
MTB Project: Suggestions for mountain bike rides relatively close by.
Disciples of Dirt: Local mountain bike club suggestions for rides.
Commuting
City Biking: City map of the area showing all the roads with bike lanes, trails, etc.
Local Bike Shops: There are several great bike shops in Eugene! 
If you want to learn more about the bike scene in Eugene, feel free to reach out to Lynde Ritzow - she's an avid cyclist and commuter: lynde@uoregon.edu 
Fly Fishing
Two rivers run right through town, the McKenzie and the Willamette. Both offer excellent trout fishing - the Willamette is a healthy steelhead fishery as well. In addition, there is excellent fishing outside town in both rivers and the high lakes of the Cascades. You can learn more about the local fishing scene by visiting local fly shops.
Skiing & Snowboarding
When the snow falls, grab your skis or your board and head for Willamette Pass, just an hour and a half east of town. Or go a little further and head up to Mt. Bachelor or Hoodoo. Or head north to Mt. Hood and check out Mt. Hood Meadows, Ski Bowl, and Timberline. Other ski areas to check out include: Mt. Ashland (about three hours south), Anthony Lakes(near LaGrande) and Mt. Bailey (snow cat skiing near Diamond Lake).
Rock Climbing
Oregon is home to Smith Rock, the best rock climbing in the lower 48 and just two and a half hours from Eugene. You can also enjoy outdoor climbing at the columns, not far from campus. In addition, UO students also have access to the climbing wall at the Rec Center and Eugene has a couple of bouldering gyms as well!
Skydiving
There are a few local skydiving outlets to check out, including Eugene Skydivers and Skydive Oregon.
Surfing
There are plenty of places to surf on the Oregon coast. Travel Oregon suggests some good surfing spots and shares some Oregon surfing etiquette as well.
Windsurfing
Well, Hood River IS in Oregon, after all. Some of the best windsurfing you'll find, just three hours north-east of Eugene.
Boating
There's no shortage of waterways to explore around Eugene. You can canoe, kayak or raft the Willamette and the McKenzie close in. Or you can go a little farther and check out the Deschutes, Rogue and Umpqua - you'll might have more white water than you can handle. For those more interested in water skiing and jet boats, Fern Ridge Reservoir is close by and popular for sailing, water skiing, and power boating. Dexter Reservoir is also popular and just 20 miles from town.
Swimming
You can swim indoors right on campus at the Rec Center. If you're feeling a little more adventurous, you can swim in the local reservoirs or drive out to the beach (an hour away) to dip your toes in the chilly Pacific.
Sandboarding
Florence has the world's first (at least that we know of) sand park, where you can surf the dunes in style: Sand Master Park
Ultimate Frisbee
Ultimate is a popular Eugene pastime. The UO has men's and women's club sports teams - likely the best place to connect with other players.
Disk Golf
Oregon Disk Golf: A great map of disk golf courses in the area. The four closest courses are Alton Baker Park, Westmoreland Park, Stewart Pond, and Clearwater Park. 
Hiking
The only question in regard to hiking in Oregon is where to begin. Fortunately, you can get in a nice day hike without leaving town. The Ridgeline Trail runs right across the southern edge of town, along with the very popular Spencer Butte, which boasts 360-degree views of the Willamette valley. Beyond that, there is a great hiking trail that runs along the McKenzie (also great for mountain biking) and the miles of trails you'll find in the Cascades - it's endless, really. For a real visual treat, take yourself over to Crater Lake, the deepest lake in the United States, known for its crystal-clear blue water and gorgeous views.
Check out the web for state parks and national parks in Oregon. There's plenty to see.
Oregon Hikers Field Guide; Eugene Cascades & Coast Hiking
Backpacking
There's no end to the trails worth packing in the Pacific Northwest. Oregon is home to the Cascade Mountain Range (which includes the Three Sisters Wilderness Area and a section of the Pacific Crest Trail) and next door to Washington, home of Olympic National Park. There's certainly more incredible backpacking than you'll have time to do in grad school!! Check out the web for state parks and national parks in Oregon.
Mountaineering
Connect with the UO's Outdoor Program for some great trips and advice in regard to mountaineering. There are plenty of large peaks to climb around Oregon and Washington, including the Three Sisters, Mt. Hood, and Mt. Jefferson. The Cascade mountain range includes many other peaks as well.
Rugby
The UO has both men's and women's teams through club sports.
Hockey/Ice Skating
The Lane Events Center has an indoor rink if you're interested in ice skating. The UO club sports program also has a hockey team.
Rowing
Once again, the best way to get involved with rowing is to contact club sports.
Tennis
The UO has covered and uncovered tennis courts available to students - so bring your racquet!