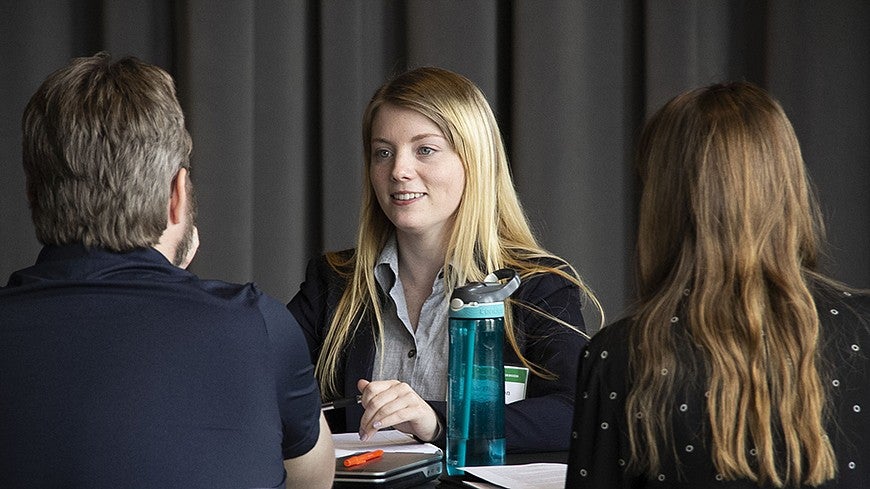 Even the most seasoned professionals will tell you that some skills need to be continually developed throughout your professional career to ensure success – no matter how senior your position. These include: Communication, Inclusive Leadership, Teamwork, and Real-Time Problem-Solving.
Whether you are a new hire or senior leadership, being an inclusive leader and working well with others is key to success in all facets of the technical sector.
It's for this reason our company partners rate so-called "soft skills" as one of the most important things they look for in prospective employees. The team-based environments in industry, national labs and research institutes demand it. You need to communicate effectively to ensure you get the job you want – and to engage with your team to ensure your career advances.
As a result, we have integrated professional development skills training across the program's technical coursework and offer a stand-alone course and frequent workshops to ensure students have the skills necessary to accelerate their careers. You will build skills that provide a life-long benefit, no matter where your career takes you. Skills include:
Resume Writing
Interviewing
Networking
Active Listening
Communicating & Presenting Technical Content
Additionally, inclusion and diversity are woven throughout the program's practices, curricula, and training opportunities. From weekly workshops that cover topics such as identity, privilege, microaggressions, braving challenging conversations, mentorship and allyship- to the expectations set by program leadership on how students engage and elevate one another, we help students be inclusive colleagues and future leaders in industry.
Professional development and inclusive leadership are cornerstones of the Knight Campus Graduate Internship Program.
Professional Development
While you need to know the science to be successful in a technical role, it's your professional skills that allow you to succeed as a scientist – landing the roles you want and getting the pay you deserve. These skills include communication, leadership and the ability to problem-solve in a team-based industrial environment. We believe working well with other people is the key to success in all facets of industry – regardless of the sector.
Diversity and Inclusion
The pace of innovation in industry requires problem-solving to be done in teams. Research shows that inclusive and diverse teams have more creative solutions and are more successful. Innovation doesn't happen in a vacuum. It happens outside a vacuum – when we can bring together our diverse backgrounds and talents to create something truly unique. We believe inclusion is the key to success and building it into our curriculum helps create a cohesive network of students ready to support each other as they embark on their professional careers.