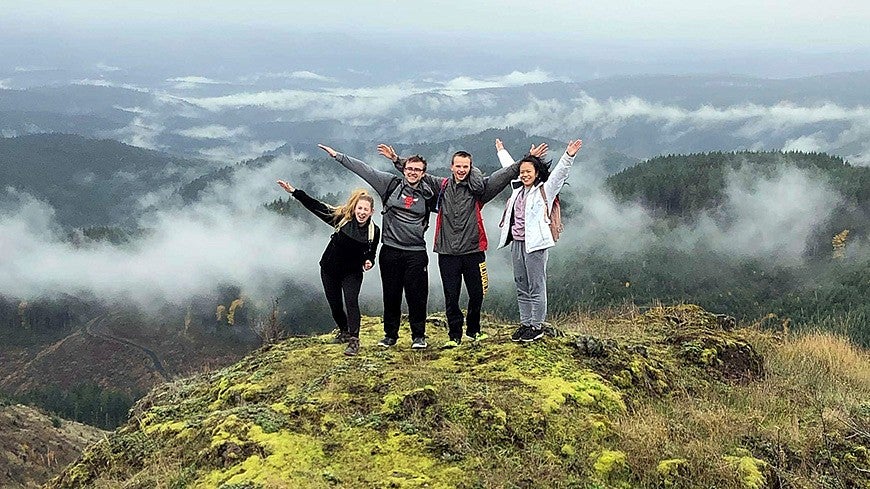 One of the best reasons to come to Oregon is... Oregon. Eugene's central location in Oregon is one of the best reasons to become a resident. Nestled in the lush Willamette Valley, Eugene is located between the coast and the Cascade mountain range. Just an hour from the beach and less than two hours from the mountains, Eugene is close to the best outdoor beauty and recreation in the state — no matter the season.
The Cascades offer several ski areas where snow-lovers can choose from a multitude of winter sports, including back-country, downhill, and cross-country skiing. The mountain range includes Mt. Bachelor, a popular ski area, the Three Sisters wilderness area, and Three-Fingered Jack, all of which provide breathtaking views in winter and summer. In spring, melting snow uncovers an enormous summer playground, revealing an extensive system of hiking, horse, and mountain-bike trails. Nearby Smith Rock offers world-class rock-climbing routes. An abundance of lakes, creeks, and rivers create a paradise for anglers and bird watchers.
Crater Lake, just three and a half hours southeast of Eugene, is one of the world's marvels — a deep pool formed after the explosion of Mt. Mazama seven thousand years ago. It is the deepest lake in the lower forty-eight states at 1,932 ft.
Nearby rivers offer abundant opportunities for angling and boating. The Willamette River runs right through the center of Eugene, joining the McKenzie River north of the city. Both of these rivers offer both calm and fast water. For white water enthusiasts, the Umpqua, Deschutes, and Rogue Rivers challenge the most accomplished river runner, all within two- to three-hour drives from Eugene.
The coast offers the allure of sandy beaches, whale watching, spectacular views, art galleries, boutiques, and exceptional clam chowder. Rugged headlands, tide pools, and magnificent forests contribute to an enticing setting for a weekend excursion near the water.
You don't have to leave town to see the wild things, however. It's common to see red-tail hawks, great blue herons, Canada geese, and black-tailed deer within the city limits. Eugene's forested neighborhoods and nearby waterways provide habitat for humans and other wild creatures. With 13 national forests and 230 state parks, there is plenty to explore in Oregon.
Besides its proximity to the great outdoors, Eugene has an active social calendar. Annual city festivities include the Oregon Country Fair, a three-day festival of art, music, earth and family in July, and the Oregon Truffle Festival, when culinary enthusiasts from around the world come to Eugene to celebrate the decadence of the delicious mushrooms that grow in abundance in the area. The annual Oregon Bach Festival, which began as a collaboration between German Conductor, Helmuth Rilling and the University of Oregon School of Music, and features internationally known artists such as Yo-Yo Ma, Pink Martini, Joshua Bell and others.
The Hult Center for the Performing Arts hosts concerts, opera, dance, and theater performances all year long. The University's Robinson Theatre provides regular theater and dance performances throughout the academic year. The art scene includes the university's Jordan Schnitzer Museum of Art, famed for its collection of Chinese, Japanese, Korean and American art; numerous private art galleries in Eugene display the works of an active artist community.
Eugene is often referred to as "Track Town USA". Some of the world's greatest stars live and train in Eugene, and many attended the university. A recreational runner is likely to run alongside Olympians, while jogging along the numerous running trails that curve through town. The new Hayward Field, a state-of-the-art track and field stadium completed in spring 2020, is a reimagining of the historic field, which in its 100-year history, has become one of the nation's most famous track and field venues.
Hayward Field has hosted more NCAA Outdoor Track and Field Championships and USA Olympic Track and Field Trials than any other venue; there have also been more decathlon world records broken at Hayward than any other venue.
The UO football and basketball teams also have the devotion of students and residents alike. Fans pack Autzen Stadium and the Matthew Knight Arena to cheer the Ducks to victory every season – and they rarely leave disappointed.
Eugene's love of sport and fitness is evident in the city's bike-path system. The small size of the community and mild temperatures, which average 53 degrees F, make bike commuting an easy and pleasant way to get around town.
Those who occasionally crave big-city life need only travel two hours north to Portland, the largest city in Oregon. This metropolitan area offers many of the amenities you would expect to find in a big city — concerts, nightclubs, theaters, art galleries, shopping, and numerous festivals. But returning to Eugene's quiet streets and slower pace is always welcome after a visit!
Learn More About Eugene Online:
City of Eugene Website: https://www.eugene-or.gov  
Travel Oregon Online: http://www.traveloregon.com/
Chamber of Commerce: https://www.eugenechamber.com
Welcome to Oregon: http://www.el.com/To/Oregon
Eugene, Cascades & Coast: https://www.eugenecascadescoast.org/#
The Register Guard (local newspaper): http://www.registerguard.com
The Eugene Weekly: http://www.eugeneweekly.com/