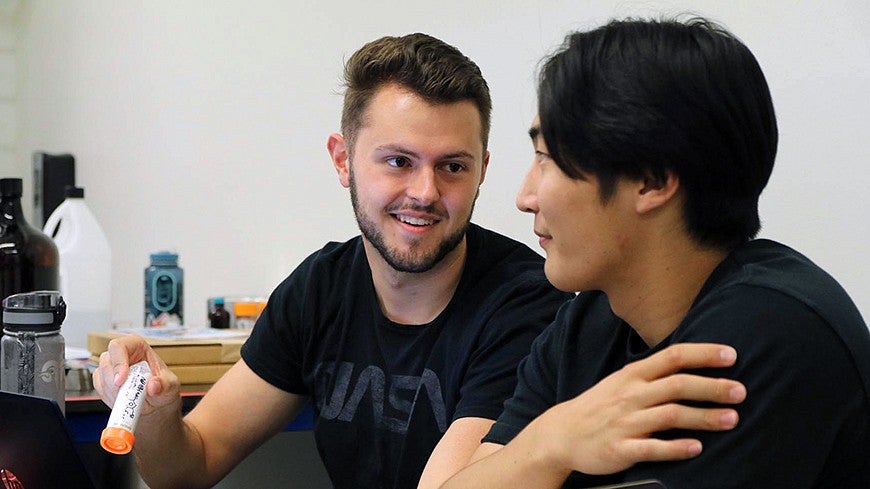 Q: How does this master's program differ from others?
A: By partnering closely with industry and the technical sector, the Knight Campus Graduate Internship Program at the University of Oregon trains students using methods that simulate the unique team-based environments in industry, national labs and research institutes. Here's how:
Program staff work closely with hiring managers to identify technical skills that will differentiate students.
This enables us to continually adapt and refine our curriculum- ensuring students are equipped with the most competitive skillset available and meet the demands of the current environment.
Interns are fully included as team members at their internship sites.
The 9-month duration of the internship allows students to fully integrate into company life, gain meaningful work experience and develop strong professional relationships. This deviates from the standard internship model where interns are given "projects" and removed from the day-to-day responsibilities of being a scientist in industry and the technical sector. About 90% of our recent grads receive full-time job offers within three months of the end of their internships.
We provide solid foundational skills to allow students to hit the ground running.
Rather than focus on independent, academic research as many master's programs do, our curriculum requires students to use the strategies that are needed for short- and long-term success in the technical sector. Through hands-on training and immersive coursework, students learn to problem solve in real time on actual problems in the team-focused work environment that is typical of industry, national labs and research institutions. In the technical sector, the goal is to work toward a solution in the interest of the company and the bottom line. Problem solving and creativity is required to come up with innovative solutions to problems on a tight timeline, something teams can do much more successfully than individuals.
Professional development sets our students apart.
Students learn how to launch their career – through networking, resume writing and interviewing – and accelerate it once they've landed a position by understanding team dynamics, inclusive leadership, active listening and challenging conversations.
Q: What are the eligibility requirements?
Bachelor's Degree Requirements
---
Bioinformatics and Genomics
Biology, Biochemistry, Computer Science, Math, Physics or Related Disciplines*
---
Molecular Sensors and Probes
Chemistry, Biochemistry, Molecular Biology or Related Disciplines
---
Chemistry, Chemical Engineering, Materials Science, Polymer Science, Biochemistry
---
Semiconductor and Photovoltaic Device Processing
Physics, Chemistry, Chemical Engineering, Materials Science
---
Optical Materials and Devices
Physics, Biophysics, Materials Science, Mechanical Engineering, Electrical Engineering
---
*Although not explicitly required, research and computer programming experience are preferred.
Q: How important is my GPA?
A: Grades are important; however, this program evaluates candidates based on their entire academic and professional stories. What is most important is how you performed in the courses that matter for the program track you are applying for. Reach out to program staff for more information about what undergraduate courses are critical for each track.
Q: Do I need to take the GRE?
A: Peer-reviewed research indicates that the GRE is not as an accurate predictor of success and biased towards more affluent applicants.
No, you are not required to take the GRE nor any of the subject tests, but you may include your scores in the application if you've already taken it and are satisfied with your score.
Q: May I begin the program in a later term (not the summer)?
A: No, our program only offers start dates for the summer term. Our intensive summer courses immerse students in their focus area and are delivered in an intentional sequence, thus mid-program starts are typically not available.
If you are a student applying for one of the materials science focus areas and have a unique situation, please discuss context with Lynde Ritzow, lynde@uoregon.edu.
Q: How long will it take to get my degree?
A: It depends on which program track you choose but timelines range from 15-18 months.
Bioinformatics and genomics track: On average, most students complete the program in 18 months. The program starts in June and most students finish in December the following year.
Materials science tracks:Most students complete the program in about 15 months. The program starts in June and most students finish in September the following year.
Q: How many students are in the program?
A: Typically, about 20 students per track. It's an intimate program, with lots of contact between faculty, staff and students.
Q: What are you looking for in an applicant?
A: We look for the same things most graduate programs look for: solid grades, some research or technical experience, and strong letters of recommendation. We also look for the same things employers look for: an ability to work well with others, initiative, inclusiveness, good problem-solving skills, independent thinking and good communication skills.
Q: How much will it cost?
A: It depends on your program track and how much you typically spend on living expenses. However, true of all tracks is that tuition for the program varies from year to year (all changes happen in the summer) and there is no difference in cost for in-state and out-of-state students.
Unlike traditional graduate programs, you will be making a competitive salary for 9 months of the program, which helps off-set the cost of tuition. In the past year, the average annualized internship compensation was $67,000.
Depending on track (the bioinformatics and genomics track requires more total credits), a ballpark estimate is $34,000 – 38,000 inclusive of tuition and fees. This does not include living expenses.
Q: What financial assistance is available?
A: Most students apply for FAFSA to support their tuition and living expenses. Others apply for a Grad Plus loan.

Visit the University of Oregon Financial Aid Office for more information. We are also here to help. Feel free to contact us.

All students are also encouraged to apply for our Inclusion and Diversity Scholarships. More information can be found here.

Due to the impact of the pandemic, application fees have been waived for all 2021 domestic applicants. See the Apply page for details.
Q: I am very interested in interning at a company you don't have listed on your web site. Is that possible?
A: Yes, we are happy to help you set up an internship and welcome new partners to our program, as long as the internship satisfies program requirements.
Q: How long are internships?
A: Students must complete three terms of internship, which is roughly equivalent to 9 months.
Q: I want to live and work in a specific location. Can you guarantee that I will get an internship in the city of my choice?
A: Students who are open to location can broadly participate in interviewing events hosted by the program. This provides candidates with more opportunities to interview and therefore increased likelihood of offers. Internships are 9-months, so it is a good opportunity to explore living in a new place.
That said, you can opt out of program-sponsored interview events or ask for an exception (e.g. declining interviews from companies in the defense sector). Students who participate in program-sponsored interviews are expected to be open to reasonable offers.
If a reality of your situation requires you to be somewhere specific, students are also empowered to find an internship location on their own. We recommend applying the strategies learned during professional development, starting the search early and networking.
Q: Do I need to be familiar with computer programming to apply?
For the bioinformatics and genomics track?
The bioinformatics and genomics focal area emphasizes writing custom scripts to analyze next generation sequencing data. Entering the intensive summer courses with some programming experience will help you keep up with the fast pace delivery of the material. Additionally, more programming experience will create more internship opportunities for you.
 
For the materials science tracks?
While experience with computer programming is not required, it provides varying levels of competitive advantage in certain focal areas. A larger advantage is seen in tracks with a heavy physics emphasis (Optics, Semiconductors, and Photovoltaics) and a smaller advantage is seen chemistry-based tracks (Polymer Science and Molecular Sensor).
Q: What can I do to strengthen my application?
A: We are frequently asked what a prospective student can do to strengthen their application. Everyone has different strengths and weaknesses, so we would provide recommendations on a personal basis. Below are some things that we look for in all applications. However, please contact us to chat about your personal situation:
Strong reference letters are extremely important. If at all possible, at least one should be from faculty that can speak to your research and analytical skills.
Research or technical experience will help your application rise to the top of the pool. If you don't have research or technical experience, we highly recommend that you spend some time working or volunteering in a research lab or taking coursework that has a heavy focus on project-based learning.
If your GPA in science/math is lower than 3.2, consider taking additional courses in these areas to demonstrate that science/math is actually a strength for you. GPA is of particular concern to our students because the University of Oregon Division of Graduate Studies requires that students maintain a 3.0 in order to graduate. We recognize that many students have a rocky start during their freshman and sophomore year, so we put particular emphasis in upper division coursework.
Bioinformatics and genomics track: if you don't have experience with programming, consider taking a course or doing some self-study (such as taking an online course or working through the Rosalind website). Python and R are especially useful with respect to the classes offered. Creating a free GitHub profile and uploading problems you have solved using Python/R is a great way to demonstrate your coding experience.
Q: What's Eugene like?
A: Eugene is a mid-size town in Oregon. It has a laid-back feel and many of our residents are pretty outdoorsy. We have a large music and art scene for a community this size (check out the arts page). The population of Eugene is right around 170,000, while neighboring Springfield adds another 63,000. You can learn more by going to the page for Prospective Students and looking under "Living in Oregon."