Track Information
TYPICAL STUDENT BACKGROUNDS
Chemistry, Chemical Engineering, Polymer Science, Biochemistry and related disciplines
---
Master of Science (MS) in Chemistry
---
6 months coursework + 9 months paid internship
---
Summer Term: February 15*
---
---
Track Description

No other class of materials displays the breadth of properties and applications of polymers – they are simply everywhere! Polymers are an unusual class of materials because they simultaneously exhibit both fluid and solid like behavior. This quirk of polymers enables scientists and engineers to design polymeric materials for a range of applications. While many people are familiar with plastics – a specific type of engineered polymers – this only represents a sliver of the applications. Polymers can be found in everyday commodity products such as shampoos, food, over-the-counter medications, paints and sports products. But they are also commonplace in high-end performance applications including aerospace composites, medical implants and flexible displays.
Polymers play a critical part in the fields of optics, semiconductors and molecular sensors. Within the field of optics, OLED and LCD displays rely heavily on polymers as both part of the assembly and in the case of OLEDs, the functional light emitting material. Every integrated circuit (semiconductor) relies on polymers for the lithography and etching steps needed to create the patterning of the microchip. The molecular sensor used to detect traces of TNT is in fact a polymer!
Students in the polymer track typically have a bachelor's degree in Chemistry, Chemical Engineering, Polymer Science, Materials Science, Biochemistry and related disciplines. Students will earn a Master of Science in Chemistry with Emphasis in Polymer Science.  
To learn more about career paths, check out our partners list and alumni bios or contact us!  
Common industrial and national lab job titles and general descriptions of roles that span the consumer products, pharmaceutical, medical and defense industries are provided below.
*This program will continue to accept applications after February 15. Applicants should reach out to Recruitment Director, Lynde Ritzow at lynde@uoregon.edu to determine enrollment availability. All programs begin coursework during the summer rather than fall term.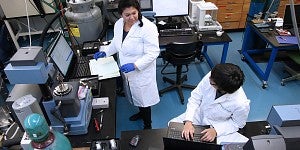 Common Industrial and National Lab Job Titles
Students who complete the polymer science track work in a wide variety of chemistry and engineering roles within the life sciences, pharmaceutical, cosmetics, paint, performance clothing and shoes, and construction materials sectors as well as peripheral sectors. Alumni from this track develop skills which have been successfully transferred to a wide variety of engineering and management roles in consumer product development, manufacturing, raw material development, and research and development. A selection of roles is highlighted below.
 
---
Application Engineer: Develops deep relationships with product users and customers to understand and create solutions for their technical needs. Example: Develops a polymer technology allowing the application of sunscreen under high moisture conditions (e.g., sweaty skin).
Research and Development (Polymer) Chemist: Synthesizes materials and conducts early stage performance testing of new polymeric compounds and derivatives. Example: Develops a novel polymer film that enables biologists, biomedical engineers and biochemists to take the highest clarity pictures to date of tissue and cell cultures. 
Polymer Scientist: Includes a broad range of responsibilities within synthesis, characterization, applications evaluation, failure analysis, reverse engineering, and others. Polymer scientists typically occupy the role of polymeric materials experts at their respective company. Example: Determines which polymer should be used in a sports helmet to minimize impact-related injuries.
Polymer and Process Engineer: Ensures manufacturing processes run efficiently and troubleshoots issues as they arise. Combines process knowledge and experimentation methods to maintain and improve the quality of a processing step. Example: Improves bioavailability of a drug by finding optimal encapsulation conditions to embed pharmaceuticals within a polymer matrix.
Polymer Metrologist and Physical Polymer Scientist: Uses thermal, mechanical, and spectroscopic characterization instrumentation to characterize the physical and structural properties of polymers. Example: Determines whether a polymeric material can safely house explosive compounds over a wide range of operational conditions (temperature, high impact, etc).
Quality Control Specialist: Tests and assesses the properties of materials to ensure that all items meet company performance and environmental standards. Example: Ensures each batch of a polymeric product used in the food industry meets safety standards.
Biomedical Scientist and Engineer: Develops biocompatible polymers for use in the human body. This includes many areas of focus such as tissue scaffolding, medical stents, artery repair, dental composites, replacement joints, and many other medically relevant areas of research. Example: Develops a bioresorbable suture specifically designed for a particular surgical procedure.
Student and Alumni Success Metrics
98%
Students who have completed 9-month paid internships since 1998
$67,000
Average annualized internship compensation for offers in past year
90%
Graduates who are employed in their field within three months
---
Timeline
Summer and Fall Terms
Over the summer and fall terms, students complete core coursework, electives and professional development (the equivalent of 6 chemistry classes, plus professional development).
 
Between the summer and fall term, students have the opportunity to interview with company partners during the program's Annual Networking event. The majority of internships are lined up during this event with internships typically beginning in the winter term.
Winter, Spring, and Summer Terms
The majority of students fulfill their internship component through employment beginning in January and ending in September. In this scenario, students enroll in 10 internship credits per quarter during the winter, spring and summer terms.
The majority of polymer science students complete their master's degree in 15 months.
---
Curriculum
Overview
Students in the Polymer Science track complete a total of 55 credits broken down as follows:
Core courses: There are four required, core courses for a total of 16 credits.
Elective courses: Students select and complete two elective courses for a total of 8 credits.
Professional development: All students complete a one-credit professional development course.
Internship: The culmination of the curriculum is three terms of internship credits for a total of 30 credits.
Details about the curriculum are provided in the sections below.
Graded Coursework (Summer and Fall Terms)
Students develop critical hands-on technical skills and foundational knowledge through curricula specifically informed by industry.
CH 667: Polymer Organic Chemistry (4 credits, Graded)
Students are introduced to the chemistry used to create polymers – a foundation that will lead to students being able to synthesize materials with desired physical properties. Organic chemistry concepts relevant to the design and synthesis of polymers as well as the application of these concepts within a laboratory setting are a key focus.
 
CH 669: Physical Polymer Chemistry and Instrumental Characterization (4 credits, Graded)
During the second course, students build a foundation of the structure-properties relationship of polymers. Theoretical physical polymer chemistry concepts are presented through the lens of real-world consequences; this is supported by a laboratory component that provides hands-on experience with commonly encountered thermal and mechanical characterization instruments. The objective is to merge theory with reality to yield a functional understanding of polymer structure-properties behavior.
 
CH 668: Rheology and Processing of Polymers (4 credits, Graded)
Students will explore the flow behavior of polymers in both the solution and melt state through both lecture and hands-on experimentation and characterization. Rheology builds upon the content delivered in the first two courses and provides context for the effect of polymer structure and physical properties on their processability. Understanding flow characteristics provides insight into how final products can be made using polymers.
 
CH 670: Industrial Projects Lab (4 credits, Graded)
The final core laboratory course provides an opportunity for students to apply their newly obtained polymer science knowledge to solve real-world, industrially sponsored research projects. The goal of this laboratory course is to provide an open-ended, realistic experience similar to those of a typical internship or industrial job position. Students will work in small teams similar to research groups within a company. The goal of this course is to prepare students with the skills and experience needed to excel in their upcoming internship positions.
 
Electives: Chemistry-related Graduate Electives (8 credits, Graded)
Students further specialize or broaden their knowledge through 8 credits of elective coursework. Popular electives amongst students include: Design of Experiments, Advanced NMR, Electron Microscopy, Surface Analysis, and Lens or Market (an entrepreneurship-based elective). Students may also opt to complete their elective requirements at institutions outside of UO. If this option is of interest, please reach out to Lynde Ritzow at lynde@uoregon.edu.
Professional Development (Summer Term)
No matter how long you've been out in the world, working well with other people is the key to success in all facets of industry – regardless of the sector. Hands-on training in communication, leadership and team-work are program differentiators that have led to 20+ years of success in launching the careers of students. Through a 1-credit course, activities infused throughout the technical coursework, and workshops, students gain the know-how to accelerate their careers.
CH610: Professional Communication in Science. (1 Credit, Pass/No Pass)
Students learn and apply foundational skills critical for career progression of scientists and engineers. Core elements include: composing a competitive resume; sharing impactful answers during behavioral and technical interviews; and building a strong professional network.
Internship (Typically Winter, Spring and Summer terms)
Students complete paid, 9-month, master's level internships as part of their degree requirements.
CH601: Internship Credits. (Total of 30 credits at 10 credits/term. Pass/No Pass)
Within an industrial or national lab setting, students gain hands on experience in the application of their knowledge. Each term, students write a review paper (to be approved by their supervisor) to demonstrate advancement of technical knowledge. Additionally, at least one formal evaluation hosted between the student, partner supervisor and UO instructor will be conducted (typically at the 4-6 month mark of the internship).
---
Facilities
The Knight Campus serves as a home base for instruction, personal belonging storage and lounging for students in the polymer science track. Hands-on training occurs in the new, state-of-the-art instructional lab facilities and shared space within the Center for Advanced Materials Characterization in Oregon (CAMCOR). Facilities contain over $1 million of state-of-the-art thermomechanical characterization equipment commonly encountered in the polymer industry as well as fume hood space allowing students to gain hands on skills with the synthesis of polymers. Major equipment includes:
Two 50-sample autosampler-enabled differential scanning calorimeters (DSC) used for exploring the thermal properties of polymers (glass transition temperature, melting temperature, crystallization temperature, heat of reaction).
Two thermogravimetric analyzers (TGA) for determining mass change as a function of temperature.
A dynamic mechanical analyzer (DMA) and two rheometers with DMA adaptor kits. This permits exploration of the mechanical behavior as a function of temperature.
A thermomechanical analyzer (TMA) to explore thermal expansion of materials.
Two rheometers with multiple measurement capabilities and geometries for probing the solid and fluid like characteristics of polymer melts and solutions.
Information on additional core facilities, such as CAMCOR, that students access through core or elective coursework can be found on the Facilities page.
---
Instructors
The program has multiple subject-matter experts who serve as instructors. Recent instructors include:
Dr. Casey Check, Manager of the Polymer Science Track, Knight Campus Graduate Internship Program, University of Oregon
Dr. Skip Rochefort, Professor, Dept of Chemical and Biological Engineering, Oregon State University
Dr. Brian Long, Associate Professor, Dept of Chemistry, University of Tennessee-Knoxville
Dr. Askim Senyurt, Senior Program Leader, Composites Business Unit, Owens-Corning
---
Applying
Student typically have backgrounds in Chemistry, Chemical Engineering, Polymer Science, Biochemistry and related disciplines. Competitive applicants have previous research experience, industry experience or project-based coursework experience and strong performance in upper division undergraduate course work. Prior experience in polymer science is not necessary. Please note that these are recommendations; we are happy to answer questions about your competitiveness for this track as all students bring different experiences.
In recognition of the financial impact of the pandemic and the program's commitment to accessible education, we are waiving the application fee for all domestic applicants applying for Summer 2021 by the priority deadline (February 15). Full application instructions should be reviewed prior to beginning an application.
This track will continue to accept applications after February 15. Applicants should reach out to Recruitment Director, Lynde Ritzow at lynde@uoregon.edu to determine enrollment availability. All programs begin coursework during the summer rather than fall term.