The Knight Campus Graduate Internship Program requires students to complete a paid 9-month full-time internship after they finish their coursework. The internship is a unique opportunity that provides our students with on-the-job training, allowing them to earn a paycheck while completing their master's degree.
We partner with over 60 organizations spanning across numerous fields, sectors, and regions, providing diverse training opportunities for our students. Students have interned at Fortune 500 companies, startups, national labs, and research institutes. Many of our students accept full-time employment offers from their internship site, but the experience proves invaluable in the job search for all students.
We also work hand-in-hand with our partners to ensure the coursework portion of our curriculum is regularly adapted to meet the ever-evolving demands of the field. Students hit the ground running with the skills necessary to launch a successful career.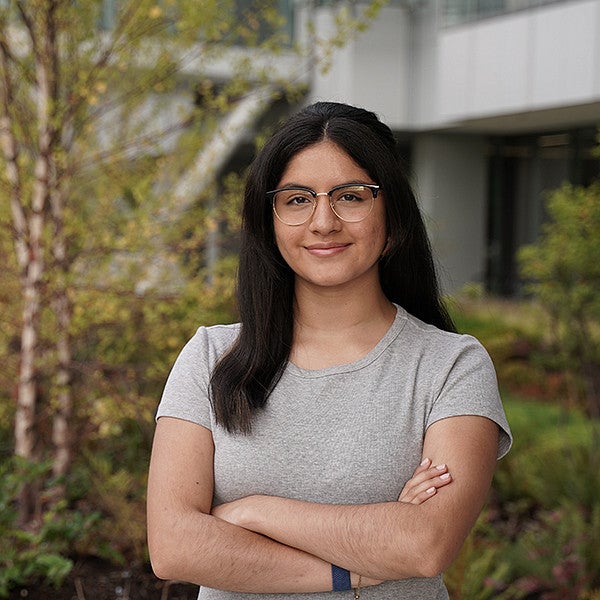 Intern Spotlight: 
Laura Paez
Laura is a 2021-22 intern at National Cancer Institute, working with Dr. Erin Davies.
Partners who have hosted interns in the last 3 years
AbSci
Adaptive Biosciences
Epic Sciences
Fred Hutchinson Cancer Research Center
Galaxy
Genentech
Genomics Institute at UC Santa Cruz
Icahn School of Medicine at Mount Sinai
Illumina
 
Johannes Gutenberg University
Joyn Bio
Los Alamos National Laboratory
Modulus Therapeutics
National Cancer Institute
Novartis Institutes for BioMedical Research
Oregon Health and Science University
Phase Genomics
Pacific Northwest National Laboratory
 
Providence Health and Services
Salish Biosciences
Schrödinger
Stowers Institute for Medical Research
University of California San Fransisco - EPPIcenter
University of Colorado Denver
University of Oregon - Knight Campus
Virginia Commonwealth University
Learn more in our Career Paths page.